Thylacoleo
was a genus of carnivorous marsupials that lived in Australia from the Late Oligocene to the Late Pleistocene, when they sadly went extinct. This genera of triple-incisor meat-eaters ranged from about that of a large house cat to poop-your-pants-it's-a-lion in size.
Thylacoleo carnifex
(pictured above lying in child's pose) was the largest of the group, and was the biggest predator of it's day. Here we present some fun facts about this pouched lion and then we take our audience on a wonderful tour of recreated
Thylacoleo
art, oh goodie!!
Most animals like to bite the shit out of each other with their enormous canines but not so for Thylacoleo carnifex, which had small, peg-like canines. Instead of using saber-like canines, Thylacoleo probably used its multiple, goddamned huge incisors to grasp prey. Also they had the forearms of a rock-climber plus retractable claws, and may have been fond of delivering death-cuddles. In the end though, their huge blade-like third premolar sliced and diced up their prey (ancient enormous kangaroos!). Pound for pound, Thylacoleo carnifex had the strongest bite of any mammal species yet known.
Yeah, Thylacoleo had some massive chompers. They were hella terrifying, turning a very nice marsupial into a scary death machine... which is why we hypothesize that paleo reconstructions are almost all making the same screaming face, so that google images is just rife with horrified, furious, open-mouthed Thylacoleo carnifex. Everywhere.
CHRIST BUT YOU ARE AN ASSHOLE
HEY DON'T CALL ME AN ASSHOLE!
FASTER DIPROTODON FASTER




I WANT MY MOM
THYLACOSMILUS IS MEAN
GOD I HATE ALLERGIES
I AM A DEATH PUPPET
WHY WON'T YOU LOVE ME AND CUDDLE ME
I CAN'T FIND MY DINNER
WHO ARE YOU? WHERE AM I?
WHAT DO YOU MEAN, STOMACH-BURSTER??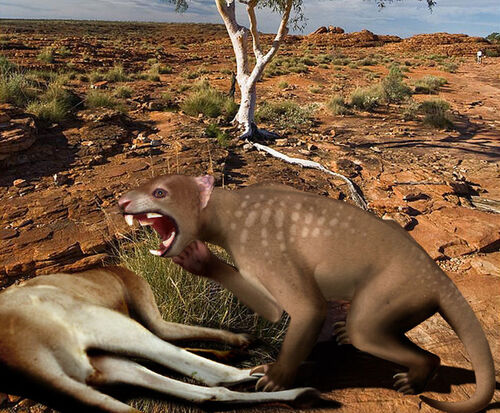 WHAT HAVE I DONE?
Look, we'd include more detail about the paleoecology of these animals and whatever but to be perfectly honest, our brains are still kinda broken from the 14 days of genitals. So yeah. Screaming photos of Thylacoleo, more content to come when our brains ressurrect from a swirl of genital-themed goop.
Works Cited
Alloing-Séguier, L., Sánchez-Villagra, M. R., Lee, M. S., & Lebrun, R. (2013). The bony labyrinth in diprotodontian marsupial mammals: diversity in extant and extinct forms and relationships with size and phylogeny.
Journal of Mammalian Evolution
,
20
(3), 191-198.
http://link.springer.com/article/10.1007%2Fs10914-013-9228-3
Wroe, S., McHenry, C., & Thomason, J. (2005). Bite club: comparative bite force in big biting mammals and the prediction of predatory behaviour in fossil taxa.
Proceedings of the Royal Society B: Biological Sciences
,
272
(1563), 619-625.
Wroe, S., Myers, T., Seebacher, F., Kear, B., Gillespie, A., Crowther, M., & Salisbury, S. (2009). An alternative method for predicting body mass: the case of the Pleistocene marsupial lion.
http://www.naturalworlds.org/thylacoleo/introducing/introducing_tc_1.htm